Top 10 Private Island Resorts


(Photo via: TravelforSenses.com)
JUMBY BAY ISLAND
ANTIGUA, WEST INDIES
---
Caribbean cool doesn't get classier than arriving by private catamaran.
How better to make an entrance into the world of luxury than by a private launch? It's just too bad no one else will be around to see it since this 300–acre private island off the coast of Antigua has merely 40 luxury guestrooms and villas, making it one of the most exclusive enclaves in the world. You'll find only guests of the island on the three white–sand beaches and dining in its four restaurants, one of which is a restored plantation house that dates back to 1830. And between those features, the destination is a naturalist's haven of lush landscapes and winding bicycle paths. Cross over to the other side of the island to visit the natives: hawksbill turtles who nest there.

Discerning travelers bring nestlings of their own to this island, too. Among the world–class service and distinguished amenities offered is Camp Jumby for kids, where nature tours, ziplines, cooking classes, and music and art complement tennis, water sports, and an oceanfront infinity pool.
(Photo via: Eravel.com)

THE BRANDO
TETIAROA, TAHITI
---
Sanctuary for a Hollywood legend? This must be The Brando.
If it's good enough for Marlon, it's good enough for … well, anyone, really! A remarkable luxury resort on French Polynesia's Tetiaroa, the island Marlon Brando hailed as "beautiful beyond my capacity to describe," is made an even rarer gem by the fact that it's ALL–INCLUSIVE.

Yep; you heard right. This crème de la crème Tahitian eco–retreat steps up the luxury by letting you have all the meals, drinks, room service, excursions, and even daily spa treatments your heart could desire. Once the private plane gets you to the resort's 35 villas, the wildlife–frequented white–sand beaches, two restaurants that offer ingredients straight from property gardens and orchards, and two bars are at your command. Also at your literal doorstep? Your own private pool, media room, and the beach whose beauty inspired the sanctuary in the first place.
(Photo via RoyalBelize.com)

ROYAL BELIZE
ROYAL BELIZE ISLAND, BELIZE
---
Exclusivity in its truest form.
"Excluding all others" is the general definition of "exclusive," and nowhere is this more exemplified than at this luxurious 7.5–acre island that caters to only one party at a time, providing a personalized experience unlike any other. The property, nestled amid emerald forests, consists of three houses. The first two, Noshi Na and Tu–li–pan Na, offer splendid suites overlooking the Caribbean waters. The third, Ne–ne Na, is a romantic bungalow perched on its private beach and separated from the rest by a bridge.

However, this retreat is inclusive where it matters: all–inclusive, to be specific! All meals, snacks, and local beverages—with or without alcohol—are included, and a concierge plans what they call your "culinary adventure" while staying on site. And a bonus inclusion? For every night you stay, the resort donates $100 to a worthy community program, school, or non–profit, with partners rotated every month.
(Photo via: Palm Island Resort)

PALM ISLAND, THE GRENADINES
ST. VINCENT AND THE GRENADINES, WEST INDIES
---
A paradise within a paradise.
The Grenadines are already a small, exclusive set of islands, which means it doesn't get more private than this. Palm Island is the littlest, most intimate island of the chain with one of the biggest lists of things that make it special.

The award–winning property's 135 acres are surrounded by five dazzling white–sand beaches. Its 43 guestrooms and villas—designed with privacy and seclusion in mind—provide incredible views of either the gardens or the turquoise sea. For explorers, the island offers splendid nature trails with glimpses of iguanas and fascinating avian life. Three meals daily at two superb restaurants are supplemented with daily afternoon tea, weekly manager's cocktail parties, and beach barbecues. And a lovely spa, lending library, fitness center, boutique, and plenty of included activities make it so that this private island really has all you need.
(Photo via Architectural Digest Mexico)

SWEET BOCAS
BOCAS DEL TORO, PANAMA
---
Quality over quantity. When one villa is all you need.
Most of the private islands on this list feature a collection of buildings—smaller pieces of a grand whole. But here, you literally get the run of the house. Only nine bedrooms are offered in this majestic 20,000–square–foot, three–story villa, plus two bamboo glamping suites that match the bedrooms in luxury and allow guests to sleep under a canopy of stars.

Also featured in this self–sustaining natural ecosystem that floats off the shore of its own private island is a lounging area, as well as a splendid kitchen run by an in–house, world–class chef—just one member of the full–staff team. Because even though this is the only luxury property in the Bocas del Toro archipelago in northeast Panama's Caribbean waters, all the amenities you would want make the list. For example, WiFi, yoga classes on a pontoon, use of a motor yacht, cooking and art lessons, snorkeling, kayaking, art installations, and even a freshwater lake and working permaculture farm, both of which provide bounty for your table. So although treasure hunts are an available activity, you can see you needn't stray far to find some.
(Photo via Lizard Island)

LIZARD ISLAND
LIZARD ISLAND, AUSTRALIA
---
Don't let the name fool you—this retreat brings the heat.
You need to be cold–blooded to be unaffected by this remote and ruggedly beautiful island! Located on a 1,013–hectar national park, this destination is the definition of seclusion from the rest of the world. Established right on the Great Barrier Reef, it features 24 shimmering white beaches for the enjoyment of only guests of the 40 rooms and villas.

Also for your enjoyment, should you be lucky enough to visit? Accommodations that feature floor–to–ceiling windows and include daily breakfast, lunch, and dinner; select beverages; catamaran and glass–bottom boat trips; motorized dinghies; self–guided island walks and nature trails; tennis; a fitness center; and picnic hampers for beachside lunches.
(Photo via the Pursuitist)

SAN CLEMENTE PALACE KEMPINSKI VENICE
VENICE, ITALY
---
In a city made of islands, only one could be just for you.
See St. Mark's Square from a perspective very few get to experience: from a private island only minutes away but a world apart. That's the uniqueness of this distinctive member of Leading Hotels of the World, a legendary retreat with one of the most exceptional addresses in Venice.

A short complimentary boat ride from that central square leads to this property's 190 rooms and suites. From your window, you'll be overlooking the lagoon or centuries–old park. On the ground, you can get up close and personal with those six hectares of heavenly gardens and the 14th century church that's just ideal for celebrations. Three restaurants and amenities such as an outdoor pool, tennis court, fitness center, and spa make this a resort retreat unrivalled in the otherwise urban, bustling Venice.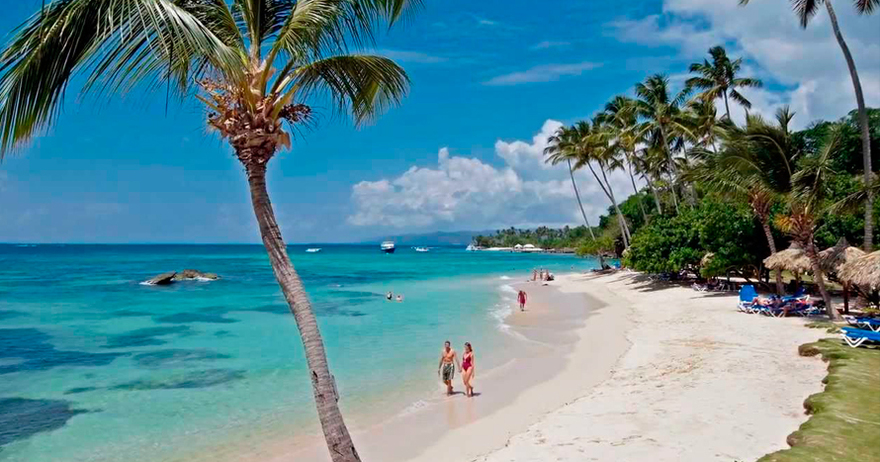 (Photo via Bahia Principe Resorts)

LUXURY BAHIA PRINCIPE CAYO LEVANTADO
SAMANA, DOMINICAN REPUBLIC
---
Come by boat. Leave never.
Dominican Republic may be known for its all–inclusives, but its outlying islands can't say the same. Enter this one, where all the trappings of the Luxury Bahia Principe brand extend beyond the mainland's shores.

Your ferry transfer from Samana is part of the package, dropping you right onto the impressive beaches surrounded by lush tropical greenery. From there, you've got your choice of 268 superior rooms and suites as well as villas—now family–friendly for most categories as of this past May. Two refreshing pools, six restaurants, 24–hour room service, beach and pool wait service, and butler service add to the VIP vibe; strong, free WiFi makes sure everyone knows the luxe life you're living.
(Photo via COMO Resorts)

PARROT CAY AND COMO SHAMBHALA RETREAT
PROVIDENCIALES, TURKS & CAICOS
---
Neither Turks nor Caicos nor sorry about it.
Technically, this private–cay resort—set on 1,000 acres of unspoiled nature and a mile–long pristine beach—is part of the greater Turk & Caicos archipelago, but the uber–privilege it provides … well, that doesn't stand, but happily floats on its own. One of more than 40 mini–islands, this enclave of privilege has a lot going for it.

Its recently redesigned rooms, suites, and villas are sophisticated in a fresh and soothing way. Two restaurants and a beach–club bar serve a range of fine dining and casual dishes, including healthy COMO Shambhala cuisine—a menu crafted with energy and well–being in mind. Along those lines of wellness is all that's offered at the award–winning Shambhala Retreat: holistic Asian–inspired spa treatments like Ayurveda, Pilates, yoga, a fitness center, sauna, steam room. Water sports and island excursions complete the experience.
(Photo via Renaissance Aruba)

RENAISSANCE ARUBA RESORT & CASINO
ORANJESTAD, ARUBA
---
Experience a Renaissance on Aruba's only private beach.
In the heart of Oranjestad, the totally renovated Renaissance Aruba Resort & Casino lives up to its name in its new iteration's chic décor. The adults–only side stands out with its 297 bedrooms with private balconies and expansive windows, infinity pool, and sophisticated restaurants. The family–friendly Renaissance Ocean Suites offers 259 spacious suites with private balconies or patios, resort–style pools, and a lagoon.

… But the main attraction here is an eight–minute water taxi ride away: Renaissance Island. This is the only private beach you'll find in Aruba, and it's exclusive to this property. A true oasis complete with adults–only and family sections, this 40–acre island also offers Spa Cove, Papagayo Bar & Grill, and the new Mangrove Beach Bar.