Our Top 10 Novel Nuptials
Do you love the idea of a combined destination wedding and honeymoon, but not too thrilled about a barefoot beach ceremony?
Do you want the breeze in your hair, flowers in the air, but the sand on the beach instead of under your feet?
Well then, these secret gardens and unique backdrops are for you. Non-beachfront wedding venues that wow, and let you have the elegant ceremony you want and the luxury destination experience you deserve.


(via Villa Mangiacane)
VILLA MANGIACANE
TUSCANY, ITALY
---
Sculpture gardens, 600 acres of vineyards, and 6,000 olive trees—they'll be hard-pressed to choose just ONE spot to say their vows!
"The royal treatment" takes on a literal meaning at this dream wedding venue, a 15th century estate originally built for the Machiavelli family in the heart of Chianti country, just outside of Florence and Siena. Two available villas and 29 total suites make plenty of room for all.
(via Karisma)

EL DORADO ROYALE, A SPA RESORT, BY KARISMA
RIVIERA MAYA, MEXICO
---
Sweeping staircases, a labyrinth of palms, a charming chapel, and swaths of green grass create a multitude of options just steps from the surf.
There's no doubt that this AAA Four Diamond resort does a shorefront wedding splendidly, but the diversity of locales on this property make the garden one out of many picture–perfect venues on offer. Or, they can make it a garden party and be wed in the darling white chapel for a traditional touch.
(via Grand Hotel Excelsior Vittoria)

GRAND HOTEL EXCELSIOR VITTORIA
SORRENTO, ITALY
---
Sweet olive in the breeze, juicy lemons in the treetops, and five acres of private park? This can only be Sorrento.
With a magnificent drop into the sea of this clifftop Italian destination, every inch of this hotel's private park—statues, ruins of a Roman pool, Mediterranean plants and all—is pure viewing pleasure. Take joy in every breath in the fragrant citrus and olive groves, and in each bite with vegetables from the kitchen's garden.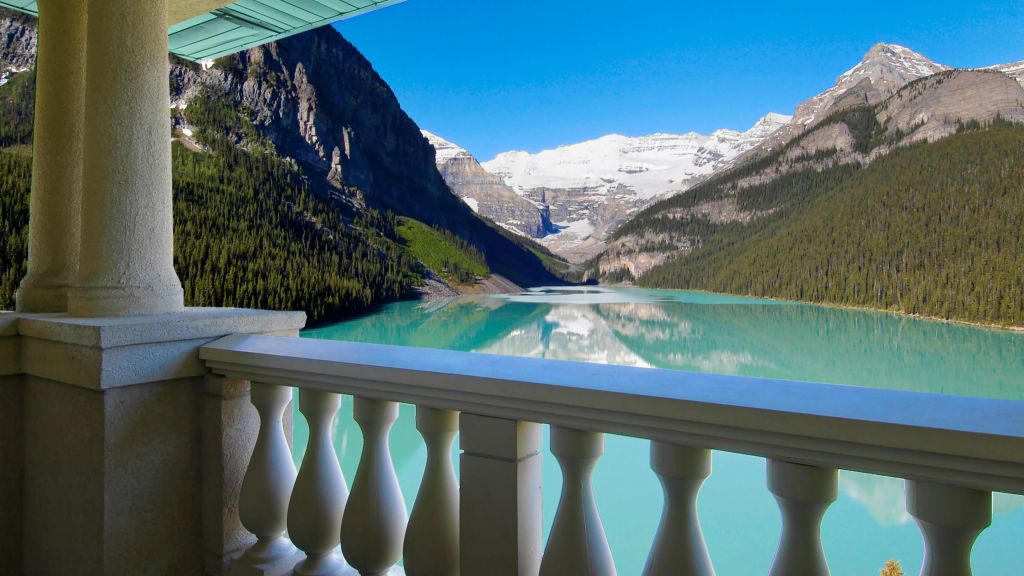 (via Kiwi Collection)

FAIRMONT CHATEAU LAKE LOUISE
ALBERTA, CANADA
---
"Fairy tale" doesn't seem far off at this palatial lakefront hotel in stunning Banff National Park, with snow-capped peaks that rival Arendelle.
With the towering Victoria Glacier in the background and a glassine green lake in the foreground, any bride will feel like an alpine princess on the Romanesque balconies or in the shadow of the Rockies.
(via Hyatt Resorts)

PARK HYATT AVIARA RESORT GOLF CLUB AND SPA
SAN DIEGO, CALIFORNIA
---
Take your pick of golf, coast, hill, or even lagoon wildlife sanctuary views.
A Forbes Five Star and AAA Five Diamond resort, this property has not one, but four enchanting outdoor venues for gatherings large and small. The Palm Courtyard, overlooking the golf course and rolling hills of Aviara, is the headliner, complete with a rose garden and sculptures.
(via El Hotels)

L'HOTEL DU COLLECTIONNUEAR ARC DE TRIOMPHE, PARIS
PARIS, FRANCE
---
Married in Paris? Mais oui! In this chic, private patio and garden, five-star splendor literally surrounds the happy couple.
In the center of this busy city, a luxurious contemporary hotel wraps its walls around a simple, sweet garden and patio, where sculptures can bear witness to their vows. Steps away, massive ballrooms make the transition from ceremony to party a piece of wedding cake.
(via Bahamas.com)

ATLANTIS, PARADISE ISLAND
NASSAU, BAHAMAS
---
Yes, beach- and oceanfront venues are as plentiful as the marine life here. But among the flying fish, they'll find a giant garden just for them.
Wedding couples can have it all when they say their vows here, from beachy splendor to a garden party. For the latter, Flying Fish Knoll, the wide expanse of velvety grass before the iconic pink towers, is simply perfect for dancing and dining under the sun or stars.
(via Adare Manor)

ADARE MANOR CASTLE & GOLF RESORT
ADARE, IRELAND
---
What bride doesn't want to be married in a castle? This country palace brings that fairy tale romance to stunning life.
Picking this venue is an easy decision, but choosing between the Minstrels' Gallery, Library, and walled traditional garden is not. The first option runs 132 grandiose fireplace–accented feet from east to west—room for 200—and ends with a 17th century Flemish choir at one end. The second, located in the oldest part of the Manor, is timeless and romantic for smaller parties, with a seven–pane bay window overlooking the stunning formal gardens. The last option, the aforementioned grounds, may be the most magical spot yet. Tall granite walls, an arched gateway, available pavilions, and room enough to live out a fairy tale fantasy in two meticulously manicured European gardens make a dream wedding a reality.
(via Luxury Retreats)

BORGO BERNARDINI
TUSCANY, ITALY
---
With cypress, magnolia, lilied lakes, and fountains scattered throughout, it's no wonder the willows weep at this garden's beauty.
This aristocratic 12–bedroom estate is practically built for special gatherings, a lovingly restored, independent hamlet in the Lucchese hills. In fact, the only thing more wedding–ready than the grounds is the food here at this host to four– and six–day cooking school seminars.