Sleep in Beauty: Top 10 Architectural Hotel Wonders
Who says art's only made to be admired? In this month's Top Ten, they're to be lived in. Take a long, lingering look at these stunning feats of design and detail, but don't bother pinching yourself. It's not a dream.

Check out this list featuring Mystique, W Barcelona, Jade Mountain and more.
GRAND HYATT PLAYA DEL CARMEN RESORT
RIVIERA MAYA, CANCUN
A sense of place in time and space.
In a place as unspeakably lovely as the Riviera Maya, as an architect, how do you compete with the destination? The answer New York–based Rockwell Group and Mexican firm Sordo Madaleno arrived at was: you don't. You embrace it with high ceilings, native vegetation, and preserved natural features.

Its mindfully designed blocks pull inspiration from nearby 5th Avenue in Playa del Carmen; elemental features like mangrove gardens and an underground cenote–like spa with a conical open ceiling; and the famous shoreline, interpreted with sand–colored cladding and stone, natural woods, and plenty of warm, indirect lighting.
Photo Credit: Grand Hyatt Playa del Carmen
---
JADE MOUNTAIN
SAINT LUCIA
If Michael Scott can break the fourth wall, so can you.
Sure, that was in a television sense, but the esteemed architect Nick Troubetzkoy has done it for you literally. All of the 24 (cantilevered for privacy) accommodations at this honeymoon favorite are fully open to the Pitons, but the dazzling view begins with the walk down the corridor—a dramatic suspended elevated bridge. Each of them are uniquely designed to have their own personalities, but what they have in common are private infinity pools or SKY Jacuzzis®, environmentally sustainable tropical hardwood flooring, Molton Brown amenities, Frette towels and robes, and no TVs, radios, or phones to make these suites true "sanctuaries," as they call them.

Set on high, there are also a minimal number of right angles, providing a free–flowing, organic geometry. Fifteen–foot ceilings add to the expansiveness of every room … as if the missing wall could ever let you forget you were in the heart of Saint Lucia, overlooking a UNESCO World Heritage Site.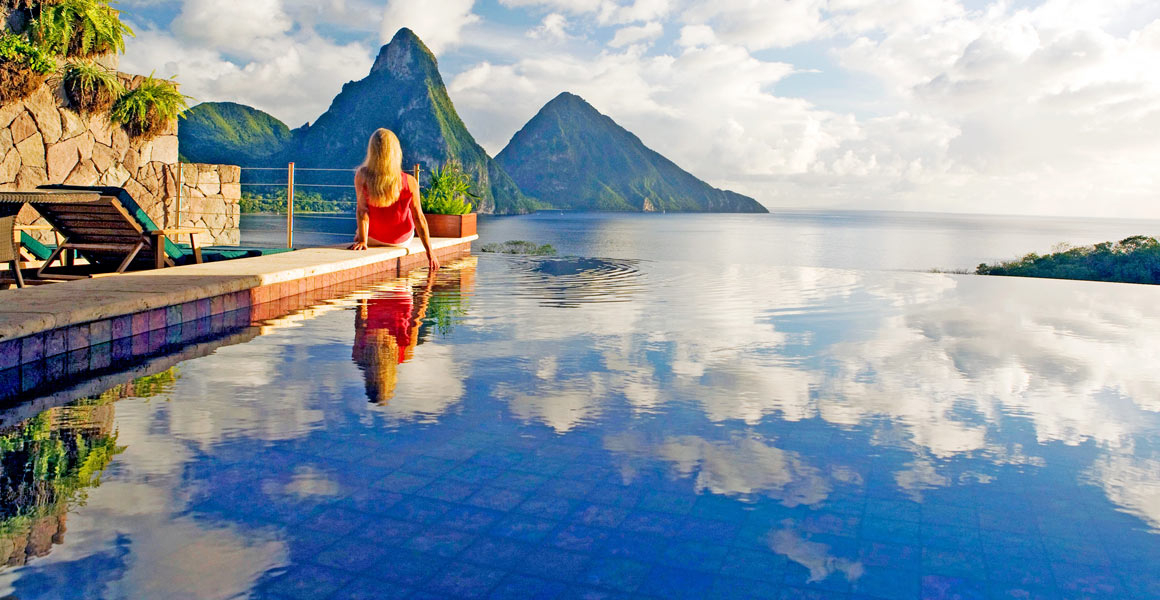 Photo Credit: Jade Mountain
---
ASHFORD CASTLE
LIMERICK, IRELAND
This estate may be set in Limerick, but its design is no joke.
"In a county in Ireland called Mayo,
There stood a formidable castle,
Whose roots were both Norman
and French but not Georgian;
It led to a few different styles!"

Limericks aside, this estate is serious when it comes to glamour. It has to be, holding on to titles like one of the Best Resort Hotels in the UK and Ireland (Travel + Leisure). In its facades, find a myriad of architectural styles representing 800 years of engineering ingenuity: gray fairy tale crenellations in Anglo–Norman style, medieval fortified enclaves, a French chateau–inspired hunting lodge, Victorian annexes … and now, $75 million and two years' worth of renovations by architect Philippe Bonino and Red Carnation Hotels founder Beatrice Tollman.
Photo Credit: Ashford Castle
---
FAIRMONT LE CHATEAU FRONTENAC
QUEBEC CITY, CANADA
Calling this hotel a chateau is the only understated thing about it.
Luxury on a dramatic scale. Even that summation is one too mild to accurately describe the grandeur of this palatial icon. Like the UNESCO World Heritage city it overlooks, Fairmont Le Chateau Frontenac takes a lot of influence from the old world, from Middle Age and Renaissance architectural details to accents like its namesake's coat of arms.

Designed by New York architect Bruce Price—father of etiquette authority Emily Post—for then–general manager of Canadian Pacific Railway William Van Home, this stunning resort is just as jaw–dropping as when its ground was broken in the late 19th century. Initially built as a stopover for CP travelers, this landmark and its city make end–journey destination rankings easily today. Renovations and expansions that began in 1899 and continued into 1993 have seen dignitaries, royals, emissaries, prime ministers, presidents, and more through their stays in New France, whose eyes have widened in the same wonder yours will.
Photo Credit: Fairmont Le Chateau Frontenac
---
WALT DISNEY WORLD SWAN AND DOLPHIN
ORLANDO, FLORIDA
Design that tells a story.
"Entertainment architecture" was what the theme park leaders in Lake Buena Vista, Florida asked for when selecting a builder for their 1990 property … and it was certainly what Michael Graves provided. The Walt Disney World Swan and Dolphin may be postmodern in style, but the thought process was true Disney. Choosing two animals that had not yet appeared in any of the brand's works, he developed an entire story around characters he hoped would join the Disney canon.

His tale starts with the sudden appearance of an island, lifting the 63–foot dolphins up to the sky. The splashing attracts two curious birds that were magically transformed into swans, the crowning sculptures on the sister building. Tied together by water elements and a bridge named after the late designer, the whimsy continues across the buildings with colorful murals, fountains, signage. This design proved they could create unique atmospheres unlike anything else, and paved the way to the firm's commission for the Team Disney Building in Burbank, California.
Photo Credit: Walt Disney World Swan and Dolphin
---
ANDAZ PENINSULA PAPAGAYO RESORT
GUANACASTE, COSTA RICA
Curves and cliffs and cocoon-like comfort.
When a brand is already known for its cutting–edge design, their new builds have a lot to live up to. From blueprint to ribbon–cutting and beyond, this resort has exceeded expectations, not least on first impression. And so it should, since it was definitely a feat of architectural ingenuity by Zürcher Arquitectos.

As if it weren't challenging enough to construct on a site with a dramatic elevation difference of nearly 200 feet, the property was designed to be built into a cliff while preserving existing waterways and ecological features. Seven massive open–air domes take their cue from organic materials, with shapes reminiscent of cocoons and seeds for a truly comforting kind of earthy coziness. Local materials and labor resulted in curving canopies soaring overhead, natural materials woven together, and open–air public spaces that bring even more of the great outdoors into the—arguably, in this case!—greaterindoors.
Photo Credit: Andaz Peninsula Papagayo Resort.
---
MYSTIQUE
SANTORINI, GREECE
Ten years young, in a tradition thousands of years old.
Built so organically into the dramatic cliffside of Santorini's famous Oia, one would never have guessed that this off–the–tourist–track resort is only about a decade old. Designed by architects Mary Kavagia and Frank Lefebvre, it merges modern comfort and minimalism with the Cycladic architecture that enchants travelers and artists across the world. Creamy beige blends with smooth curves, handcrafted wood, and stone accents, making panoramic views over the cerulean sea pop even more from the property.

As gorgeous as that view is from the equally stunning rooms, the literal high point of this resort's design might just be its infinity pool. Suspended on the edge of the steep drop, the entirety of the Caldera opens up to view. Want the vista all to yourself? Book the freestanding Secrecy Villas or Mystery Villa, which feature private terraces, outdoor jetted tubs, and even a private plunge or infinity pool.
Photo Credit: Mystique.
---
THE PLAZA HOTEL
NEW YORK, NEW YORK
Where "nothing unimportant ever happens."
It's hard to name a film set in New York City that doesn't somehow reference or b–roll The Plaza. This French Renaissance chateau–style building overlooking Central Park originally served as a residence for the wealthiest of New Yorkers, and its address today is still one of the most elite in this world capital.

Designed by Henry J. Hardenbergh—whose Fairmont Copley Plaza in Boston is also in Travel Impressions' portfolio—and opened in 1907, it was restored just in time for its 100–year anniversary for a cool $450 million. A Historic Hotel of America as designated by the National Trust for Historic Preservation, its architecture remains as true to its original vision as ever, providing a tantalizing glimpse of what was then—and still is—one of the "greatest hotels in the world."
Photo Credit: The Plaza Hotel
---
LE ROYAL MONCEAU RAFFLES PARIS
PARIS, FRANCE
A two-year drumroll well worth the wait.
Designed by Louis Duhayon, a name nearly synonymous with the advent of the Art Deco design, it would seem that this hotel could not get any grander. But a two–year closure as it was revamped by the acclaimed Philippe Starck proved that even the greats can become greater.

Its exterior still serves as a prime example of Haussmann–era architecture and its experimental approaches. The belle époque flair remains evident in its aesthetic, a respectful nod to the hotel's place in the city's artistic legacy as a meeting point for artists and intellectuals. But now, clichés have been eliminated, allowing you to better appreciate the innovation of the building's visionary as it was meant to be appreciated. Startling details in personalized spaces, from charming letters hidden for guests to a herd of wooden reindeer, lead to moments of discovery that capture the "elusive French spirit" the acclaimed designer displays with traditional elements with a twist.
Photo Credit: Le Royal Monceau Raffles Paris

---
W BARCELONA
BARCELONA, SPAIN
Blue skies, glassy waters, and smooth "sail"-ing up ahead.
Just a hop and a skip away from the bustle of Las Ramblas and the charming alleys of the Gothic Quarter is the "new" Barcelona, where innovation in design is massive in scale and dramatic in aesthetic. Case in point: that port and beach is where The Sail—from the sea—appears to float over the rippling waters of the Mediterranean, movement that's reflected in its glassine walls.


Water and city views can be seen from nearly every room of this iconic hotel … but that's no reason to skip the view from the rooftop bar. Built in 2010 by Ricardo Bofill, it was already a symbol of modernity in the Catalan capital, but after recent redesign by London studio Bowler James Brindley, it may have reached icon status. The new guestroom vibe is aquatic and urban, with local legends like Gaudi, Dali, and St. Eulalia reinterpreted in contemporary accents.
Photo Credit: W Barcelona