7 Eco-Friendly Resorts Around the World
Sustainable travel, eco travel, ecotourism, responsible travel…no matter what you call it, this travel niche is hot.
This type of travel supports the management of resources so that economic, social and aesthetic needs are fulfilled while maintaining cultural integrity, essential ecological processes, biological diversity and life support systems. Basically, it's choosing suppliers and destinations with environmentally-focused practices.
From Costa Rica to Antigua, see where eco travel can take you.
1. El Mangroove, Autograph Collection – Guanacaste, Costa Rica
In 2015, this hotel earned the highest ranking of a level 5 from the Certification for Sustainable Tourism program. Their sustainable practices include water-efficient faucets, dual-flush toilets, irrigation water treated on-site and LED and fluorescent lightning. Most food products are organic and local and the wood of trees that were cut down during the hotel's construction were recycled into furniture and mirror frames.
2. Azul Ixtapa – Ixtapa, Mexico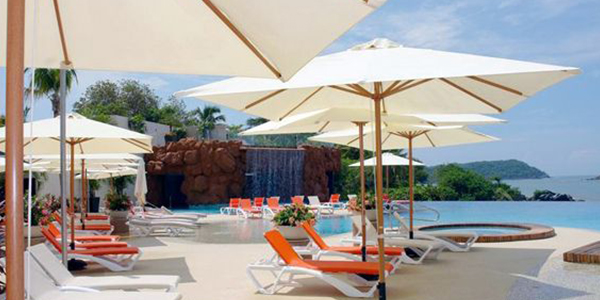 The Azul Ixtapa bills itself as "a majestic luxury resort with an eco-friendly concept." And it really is living up to that. As of 2016, it's an EarthCheck Gold Certified resort and has earned the S Badge from Mexico's Ministry of Tourism, a recognition of sustainable practices in the tourism industry. One of the coolest things about Azul Ixtapa is its EcoGym that has solar-powered fitness equipment that powers the gym and the surrounding community.
3. Grand Palladium White Sand Resort & Spa – Riviera Maya, Mexico
The Grand Palladium White Sand Resort & Spa is a luxury eco-hotel and is one of five Palladium properties that has won a global certification of sustainable tourism by EarthCheck for adhering to the highest standards of environmental conservation. This resort has also won the Travelife Gold Award, an international sustainability certification. Palladium has a mandate to help local communities share the wealth of natural resources around them while building resilience to the impacts of climate change, natural disasters and resource conflicts, which has helped Grand Palladium White Sand Resort & Spa reduce waste by 65%, reduce water use by 45% and reduce overall energy consumption by 46%.
4. Sandos Caracol Eco Resort – Playa del Carmen, Mexico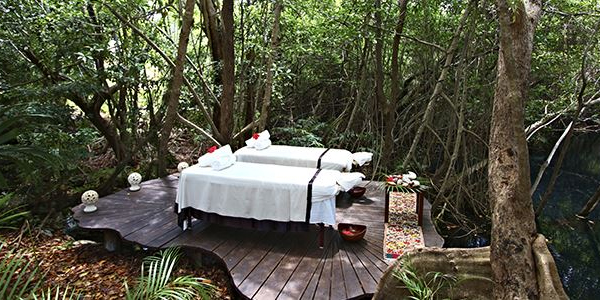 The resort was built around a natural ecosystem and its dedication to low impact on its environment means the monkeys and tropical birds are right outside the door. Guests are given the opportunity to immerse themselves in the region's unbelievable natural beauty while learning about the local landscapes and wildlife. On-site cenotes and waterfalls allow guests to experience a side of Mexico that's very different than the beachy sun-and-sand vibe. Sandos Caracol Eco Resort is Rainforest Alliance certified, meaning it's a true eco-friendly resort dedicated to preventing deforestation and environmental destruction.
5. Andaz Costa Rica Resort – Papagayo, Costa Rica
Settled amongst a backdrop of mountain ranges and cool ocean waters, this breathtaking property combines the beauty of nature with the charming allure of a gorgeous resort. But beyond its beauty, Andaz Costa Rica Resort is dedicated to sustainability, with a 20-point sustainability commitment and responsibilities managed by every employee of the resort, from the director to the associates. The resort has also been awarded with a Certificate for Tourism Sustainability from Costa Rican Tourism Institute for their efforts to contribute goods to the communities, collaborate in economic development, support environmental improvements and enter fully into the local culture and traditions.
6. W Costa Rica Reserva Conchal – Guanacaste, Costa Rica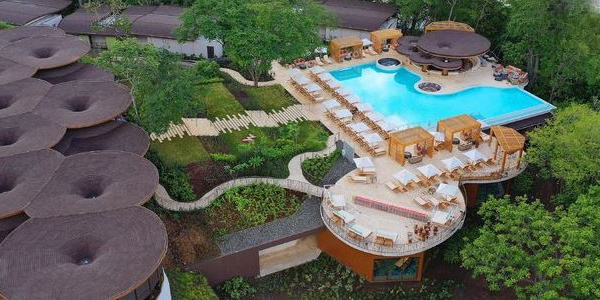 Hidden amongst the mangroves of Guanacaste, W Costa Rica - Reserva Conchal prides itself on its high level of care for its guests and the environment that surrounds it. Their sustainability efforts include irrigating the golf course and gardens with wastewater from the property; supplying the property's dining with produce from the on-site organic garden; using a hydroponic watering system in the garden to preserve water; on-site composting in the garden using the Japanese Bokashi technique; managing an on-site tree nursery and planting 15,000 trees from it around the property; using 1,400 solar panels to power the property.
7. Blue Waters Resort and Spa – Antigua
At Blue Waters Resort and Spa, you'll be on the beach, but you'll also be just miles away from three more incredible beaches: Dickenson Bay Beach, Jolly Beach and Hermitage Bay. You'll also be staying at the first resort in Antigua to lead the way to a cleaner, plastic-free future, as the resort's major plastic reducing initiative includes the installation of refillable water stations around the property and the introduction of a new complimentary BPA-free water bottle amenity for guests. The resort additional sustainability initiatives include no single-use plastic toiletries, seaweed composting, produce grown on-site and fed with recycled water, aluminum recycling throughout the property, solar energy-powered walkways and garden lights, and more.